Joel White's "Nutshell Pram" (from trevorhenderson.ca)
Many of us read E. B. White's 1941 essay
"Once More to the Lake"
at one point in our lives, probably in an expository or creative writing course of some kind. It's one of the most widely anthologized essays, and much ink has been spilled by writing students straining to identify structural or rhetorical devices in White's prose: Googling the essay, as I just did, brings up hundreds of basic "compare and contrast" essays, or sample papers (which one suspects are more than just "samples"), or summaries. It's only around 2,500 words long, and written in the kind of prose that you can imagine in wartime
Harper's
: nostalgic, warm, somehow markedly American.
The essay talks at length about White's memories of camping with his father on a lake in Maine while narrating his own experience camping with his young son, so that the two are overlaid on one another: "Everywhere we went I had trouble making out which was I, the one walking at my side, the one walking in my pants." The essay's fame is justly deserved; it modestly pulls off some things that are very hard to do in a short narrative. And it evokes of lost sylvan wonder and childhood innocence as seen through the eyes of an aging father in a way entirely different from both the maudlin sentimentality of Victorian essayists and the winking, acerbic self-awareness of one of today's essayists. White finds his childhood haunt agelessly preserved, like Rip van Winkle in the woods:
But when I got back there, with my boy, and we settled into a camp near a farmhouse and into the kind of summertime I had known, I could tell that it was going to be pretty much the same as it had been before—I knew it, lying in bed the first morning, smelling the bedroom, and hearing the boy sneak quietly out and go off along the shore in a boat.
Most of the essay's readers, whether they are 12 or 18 or 75, don't realize that White's son Joel went on to become a boatbuilder in Maine as an adult. By all accounts, he was a quiet and intense man who simply loved his craft. He designed dozens of small wooden boats, many of which can still be found today.
His 1997 Times obituary
noted this:
''In a world gone crazy for gadgets and goo-gaws on boats, he preserved a sense of elegance and purity,'' said John Wilson, the editor in chief of WoodenBoat magazine, to which Mr. White contributed designs. ''His was the world of traditional wooden boats and yachts. And he was not interested in self-aggrandizement. He was not seeking monuments to himself. His boats were adorned with nothing unnecessary.''
I know absolutely nothing about sailboats and little about rowboats. But in pictures alone, the younger White's boats just look like the image of austere grace—the arcing ribs, the curves that bend across the keel and back, the sturdy little shell of a hull. It's as though if you touched it with a sullied mind, it would disappear: like it demands some kind of truth or purity of soul just to look at. They reinvest the beautiful with some kind of meaning you'd think was lost from our fallen times for good:
Boat mold for White's "Haven" sailboat
It's easy to forget and dismiss the earliest essays we read, especially the ones we read in the classroom. And White's current reputation as a relic of the early
New Yorker
, a childhood favorite for
Charlotte's Web
and
Stuart Little
and
The Trumpet of the Swan,
inveterate and inconsistent grammar stickler—as well as the fact that most of his work took the form of essays and children's books, two of the least-respected genres—does much to cover up his intrinsic merits. But it is a good essay. Traditional, perhaps, mostly humble, given to an occasional flourish—but sturdy and elegant.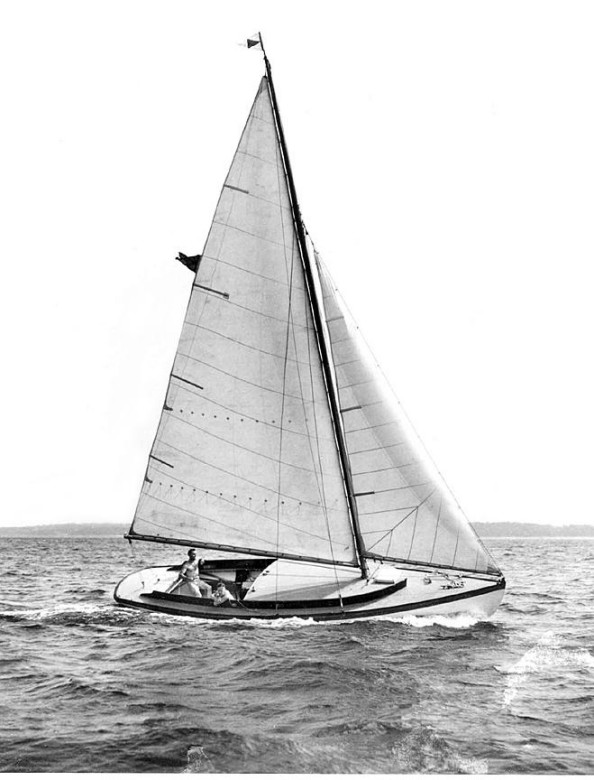 White's "Bridges Point 24'" (pearsonariel.org)