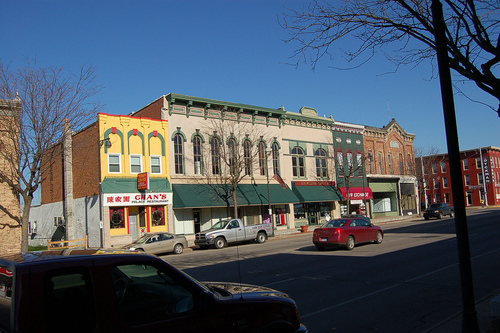 I love my hometown: Paw Paw, Michigan, exit 60 off I-94, just about halfway between Chicago and Detroit. A town with a name that makes women say, "That's a cute name for a town!" men say, "That's a weird name for a town," and phone operators ask, "How do you spell that?"
But I didn't learn until recently that there's a musical that happens in Paw Paw! Called
Dear Edwina
, it's a musical by Marcy Heisler and Zina Goldrich (the team that brought you
"Taylor, the Latte Boy"
). At one-hour, it's meant to be produced for children, but beyond that, there's a special version of the show for school productions that features an introductory number titled, delightfully, "Paw Paw, Michigan." You can watch a pretty darn coordinated cast of high schoolers sing it on YouTube below:
This brought to mind other great moments that Paw Paw (pop. 3,534, and still seat of the county) has had in the media spotlight. For one, there's this early episode (
#108: "Road Trip"
) of
This American Life
from 1998, featuring a memorably zany audio essay by Cheryl Trykv in which Paw Paw is sketched out as a glorified truck stop full of fundamentalists and hitches a ride with a semi driver after an extended battle with a Speedway employee. (I know that Speedway.) I have to say that the effect is much better when you listen to it (Michigan readers: listen to how she mispronounced "Dowagiac"!), but an excerpt from
the transcript
, which is toward the bottom of the page at "Act Four":
Instead I remind her very softly about American hospitality and how Americans are known the world over for their friendly, peaceful, helping nature. I tell her that I noticed on my way in through her charming little town a sweet and simple church with a banner out front that read "Bold yet humble. Paw Paw for Jesus." There are few customers in the store, so I say it again, louder. Paw Paw for Jesus. Paw Paw for Jesus. An older gentlemen with an Abraham Lincoln beard and an Elvis Presley coiffe stares at me blankly. The manager tells me to cut the crap and get out of the store. OK, I say to her. I look at her name badge, Mary Ann. I'll get out of your store. But I ain't never coming back to Paw Paw.
I once went to a book signing that David Sedaris, the frequent and celebrated
This American Life
contributor, was giving at the Harvard Book Store in Cambridge. Sedaris, who is relentlessly cheerful and personable during signings, will chat with anyone for 90 seconds as though you've been introduced by his closest friend, and asked me cheerily, "Where are you from?" once he found out I was a student. I said, "Oh, it's this little town near Kalamazoo in Michigan—actually, you might know it; it's called Paw Paw—" whereupon he immediately interjected, "Oh, yeah, Paw Paw for Jesus!"
And the choreographer and director Jerry Mitchell, who just won his second Tony for the musical
Kinky Boots
, was born in Paw Paw. There was a great
interview with him in the
Times
a few years ago in which he tells about leaving home with a road company of
West Side Story
and also alludes to "major sex in cornfields," which surely sounds unpleasant to anyone who has ever been in a cornfield.
Also involving Paw Paw was
this incident
in my junior year of high school when a semi obliviously picked up a man crossing a wheelchair
in its front grille
and
pushed him
two miles down
Red Arrow Highway
before a couple of cops noticed and stopped the driver. It's harrowing... but also just one of those things that you couldn't in a million years make up, and (let's admit it), as long as every survived, kind of funny:
I'm changing my schedule this week for the summer: after this, I can't promise weekly updates, as I'll working, traveling, and moving, and will only update on an irregular basis. But check back every now and then, and I'll resume posting on a regular basis this fall!