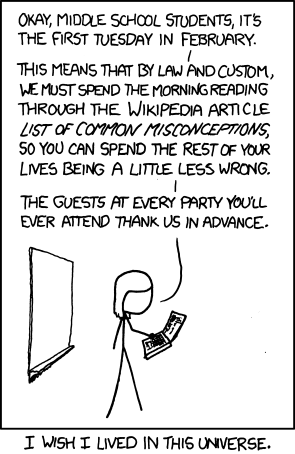 xkcd #843, "Misconceptions"
Wikipedia's "List of common misconceptions" is full of delightful trivia, ranging from:
"Older elephants that are near death do not leave their herd and instinctively direct themselves toward a specific location known as an elephants' graveyard to die."
to: 
"Human blood in veins is not blue. In fact, blood is always red due to hemoglobin. Deoxygenated blood has a deep red color, and oxygenated blood has a light cherry-red color. The misconception probably arises for two reasons: 1) Veins below the skin appear blue. This is due to a variety of reasons only weakly dependent on the color of the blood, including light scattering through the skin, and human color perception. 2) From the way diagrams use colors to show the difference between veins (usually shown in blue) and arteries (usually shown in red)." 
The impulse to correct apparently true, apparently "scientific" beliefs belongs to a certain kind of disputatious mind. You must like truth more than peace. (I betray no bias at this juncture toward either virtue.) You must be skeptical and a little persnickety. You must be willing to call others' bluffs. In short, you must be a bit like the mid-17th-century English physician and writer Thomas Browne.